Are you tired of carrying around heavy coolers just to keep your drinks and snacks cold? Are you looking for a convenient and easy-to-use portable refrigerator that you can take anywhere? Look no further than the Bodega Cooler – the ultimate mini portable refrigerator with battery J9.
In this article, we'll explore the Bodega Cooler in detail, from its features and benefits to its ease of use and versatility. We'll also discuss why it's the perfect companion for outdoor activities, road trips, and more. So, without further ado, let's dive in.
Features and Benefits of the Mini Fridge
1. Portable and Lightweight
One of the biggest advantages of the mini fridge is its portability. Unlike traditional refrigerators or coolers, mini fridges are compact and lightweight, making them easy to carry wherever you go. It comes with convenient handles or straps for added mobility, and can fit in tight spaces like car trunks or tents.
2. Detachable Battery
The Bodega Cooler comes with a detachable battery that can last up to 24 hours on a single charge. This means you don't have to worry about finding a power source when you're out and about.
Learn also: Portable Power with Bodega Detachable Battery
3. Cooling Performance
Of course, the primary function of any refrigerator is to keep the contents cool, and mini portable refrigerators are no exception. Bodega fridge J9 come with advanced cooling technology that can maintain a specific temperature range, usually between 32 °F and 50 °F. They also have fast cooling and freezing capabilities, allowing you to chill your drinks or food in no time. However, some mini fridges may produce more noise or vibration than others, so it's essential to choose a model that suits your preferences.
4. Versatile
The mini cooler is a versatile appliance that can be used in a variety of settings. Whether you're camping in the woods or tailgating at a football game, the Mini cooler is the perfect companion.
Why Choose This Mini Fridge?
It's easy to use, versatile, and incredibly convenient. Whether you're planning a day trip or a week-long camping trip, the mini portable fridge is the perfect companion.
Price and Availability
The price of this mini portable refrigerators with battery is $349.99(sold out now), and now are available bodegacooler.com. You may get special deals on subscribing to us. 
Alternative Choose
BODEGAcooler Mini 12V Portable Freezer P8 9Qt/8L
Small Size for Personal Use: The 9-quart refrigerator is equipped with an ergonomic handle, making it incredibly easy to carry alone on trips, fishing expeditions, and various outdoor activities. Its compact design ensures convenient transportation without compromising on cooling capacity or performance, ensuring your refreshments stay chilled and readily available.
Mini Portable Car Armrest Refrigerator
This compact 9 quart mini fridge plugs into your car's 12V outlet for chilling drinks and snacks on road trips. Durable and portable design ideal for small storage needs.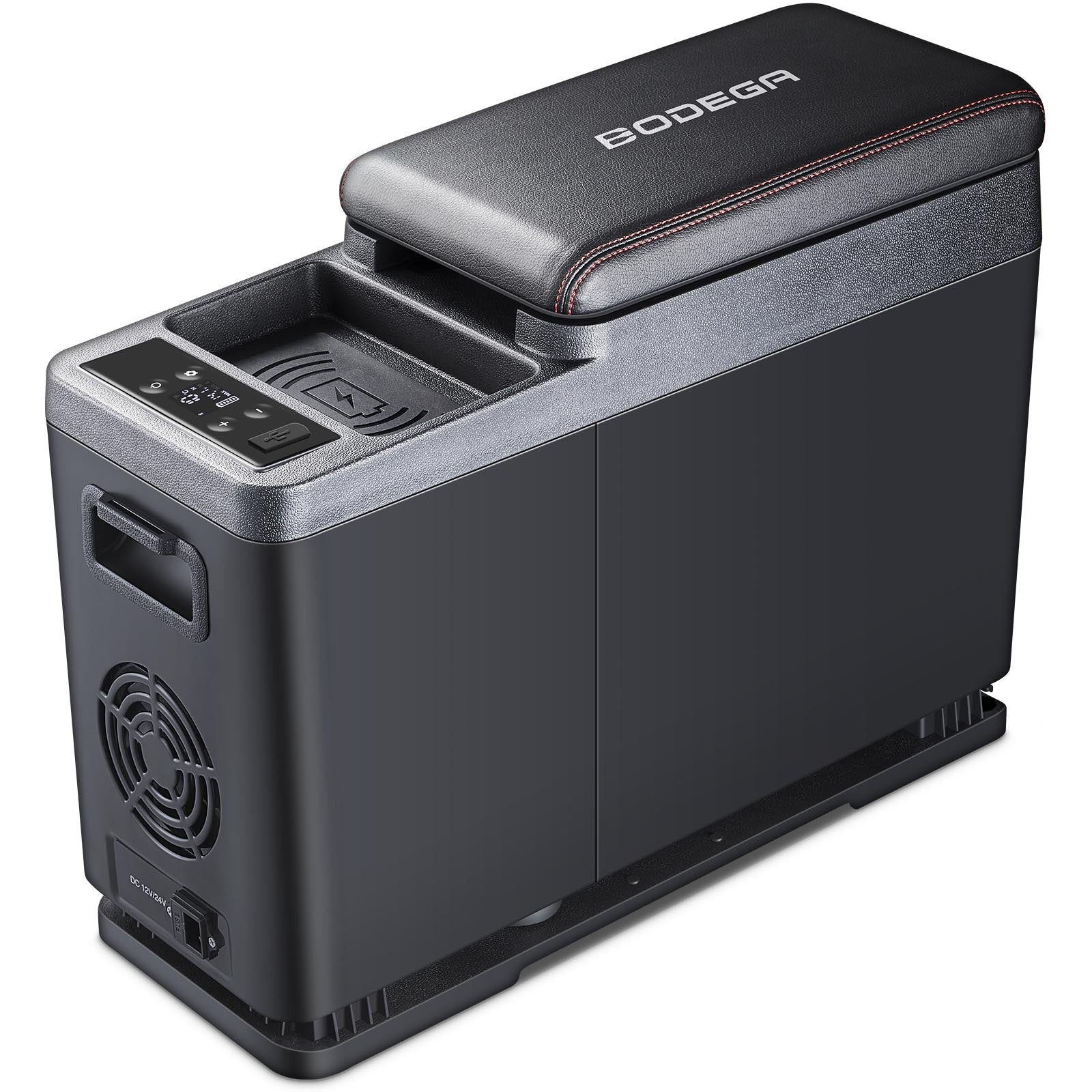 Conclusion
In conclusion, the portable refrigerators are a must-have appliance for anyone who enjoys outdoor activities. Its portability, ease of use, and versatility make it the perfect companion for camping, tailgating, and more. With its large capacity and built-in battery, you can enjoy cold drinks and fresh food for hours on end. So, if you're looking for a mini portable refrigerator with battery, look no further than the Bodega Cooler.