Payment & Security
Your payment information is processed securely. We do not store credit card details nor have access to your credit card information.
Description
Whether you're camping in the wilderness or on a road trip with your car fridge, our portable power station ensures your devices and appliances stay powered. Our portable power stations are designed for adventure, offering reliability and convenience when you need it most.
Product Features:

🔋WIDELY COMPATIBLE
This battery backup comes with 2 Car outlets, 2 DC ports, a PD USB-C port, and 2 QC USB ports to meet the charging needs of all your devices.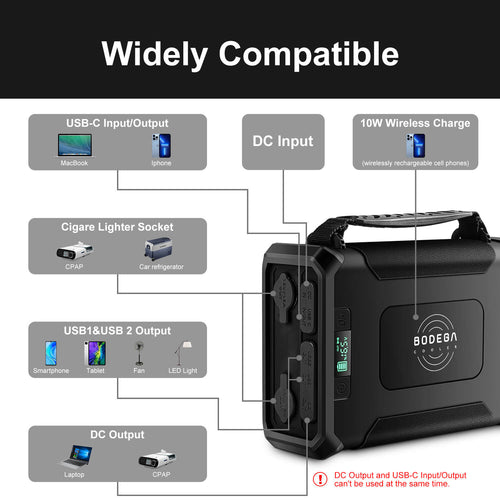 Dual 12V cigar lighter socket output—Support CPAP/Car fridge/Camera
USB-C PD 60W—Support laptop fast charge
USB-A QC3.0 power bank—Support mobile phones fast charge
IP64 waterproof & with emergency 2 light modes—Best battery backup option for Carp fishing/Camping/Hunting/Hiking etc.
DC 12V 16.5V 20V 24V for ResMed Airsense S9/10 mini, Dream station Outdoor backup station, make your camping safe and cool. 
Wireless Charging - Get rid of cable troubles
🔋 Safe and Stable
Unlike most emergency power supplies, our portable power station GP50 built-in LiFePO4 green battery will not burn when overcharged, over-discharged, overcurrent, or short circuit, and can withstand high temperatures without decomposition. 
This battery pack also provides 3000 battery cycles and 6 times the battery life of ordinary batteries. The Management System (BMS) ensures complete protection for you and your Devices. (Not TSA Approved: Not allowed on a plane)
🔋 3 Ways to Rapid Recharge
There are 3 ways to recharge our battery pack. 1, recharged from a 60W Type-C PD charger (6-8 Hours); 2, recharged from an 72W AC adaptor (included, 5-6 Hours); 3, The solar panel (not included). This battery pack comes with 2 modes of light: LED light and warm light, perfect for outdoor, camping, and emergency.
Friendly Use and Friendly-Environment
Power Source
 Fuel Generator
GP50 Power Station
Power Generation
Creates Electric Power
Stores Electric Power
Fire Hazard
YES
NO
Noise Emission
Yes, Strong vibrations and thumping and fan noises are disturbing
No, No deafening rumblings, no fan, the world is so quiet
Air Pollution
Yes, using gasoline to generate electricity will increase carbon dioxide emissions and make the greenhouse effect more serious
No, captures energy directly from the sun instead of fossil fuel; No carbon dioxide is emitted.
Usage
Outdoor Only
Indoor and Outdoor
Maintenance
Required, Need to spend much for gasoline changing spark plugs and maintenance
Not Required, No extra cost on fuel and maintenance
Weight
Extremely Heavy
Compact & Lightweight
Appliances
Unsuitable for sensitive electronics, unless inverter supported
Suitable for most devices
Use steps
Hard to Start Up, Time Consuming. Multistep operation is required
and attention should also be paid to the safety of the use process
One click to start the Power Station
Package include: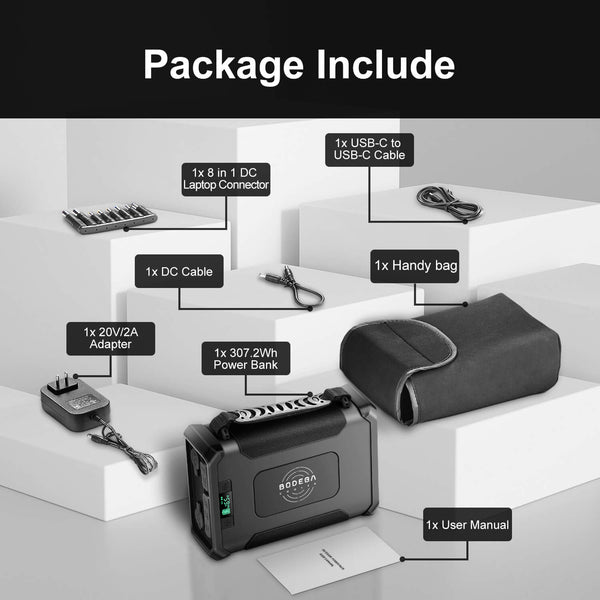 1x GP50 Power Station
1x User Manual
1x 20V/2A Adaptor
1x DC Cable 1x 8 in 1 DC Laptop Connector
1x USB-C TO USB-C Cable
1x Handy bag
 FAQs:
Can this battery backup be charged and discharged at the same time?
Yes. This backup power station has a pass-through function and supports simultaneous charging and discharging.
How long will GP50 power my device?
Working time estimation) = 307.2Wh* 0.85 / operating power of your device. (0.85=(conversion Rate), please note that the actual working time may vary under different situations.
What CPAP is this battery backup compatible with?
This power station is compatible with ResMed Airsense 9(S9)/ Airsense 10(S10) /Aircurve 10 / AirMini/ Phlips Dreamstation and more. But it only comes with 4 cables for different CPAP machines.
Battery Bank Review video: