Payment & Security
Your payment information is processed securely. We do not store credit card details nor have access to your credit card information.
Description
Easy-to-operate screen with digital control panel, compact, steady and high-efficient design, make it ideal for indoor and outdoor fridge use.  This fridge is great for RVs, boats, campsites, fishing trips. All you need is either a standard household 110 volt outlet or a 12 volt power source, such as a vehicle battery.
Key Features



LCD panel, equipped with LED light and internal basket.
Suitable for Car, RV, Truck in 12/24V DC.
Freeze temperature down to -4 °F(-20 °C).

Stainless steel casing with a removable basket

3 stage car battery protection system to prevent the car battery run down.
With portable handles on both side, easy for moving.
Vibration resistant design to protect the device safety while driving on road.
Safe to run on angles up to 45°from horizontal—great for 4WDing!
Digital control panel with electronic temperature control.

High efficiency compressor with adjustable ECO and HH modes.
 DUAL ZONE AND DUAL TEMPERATURE CONTROL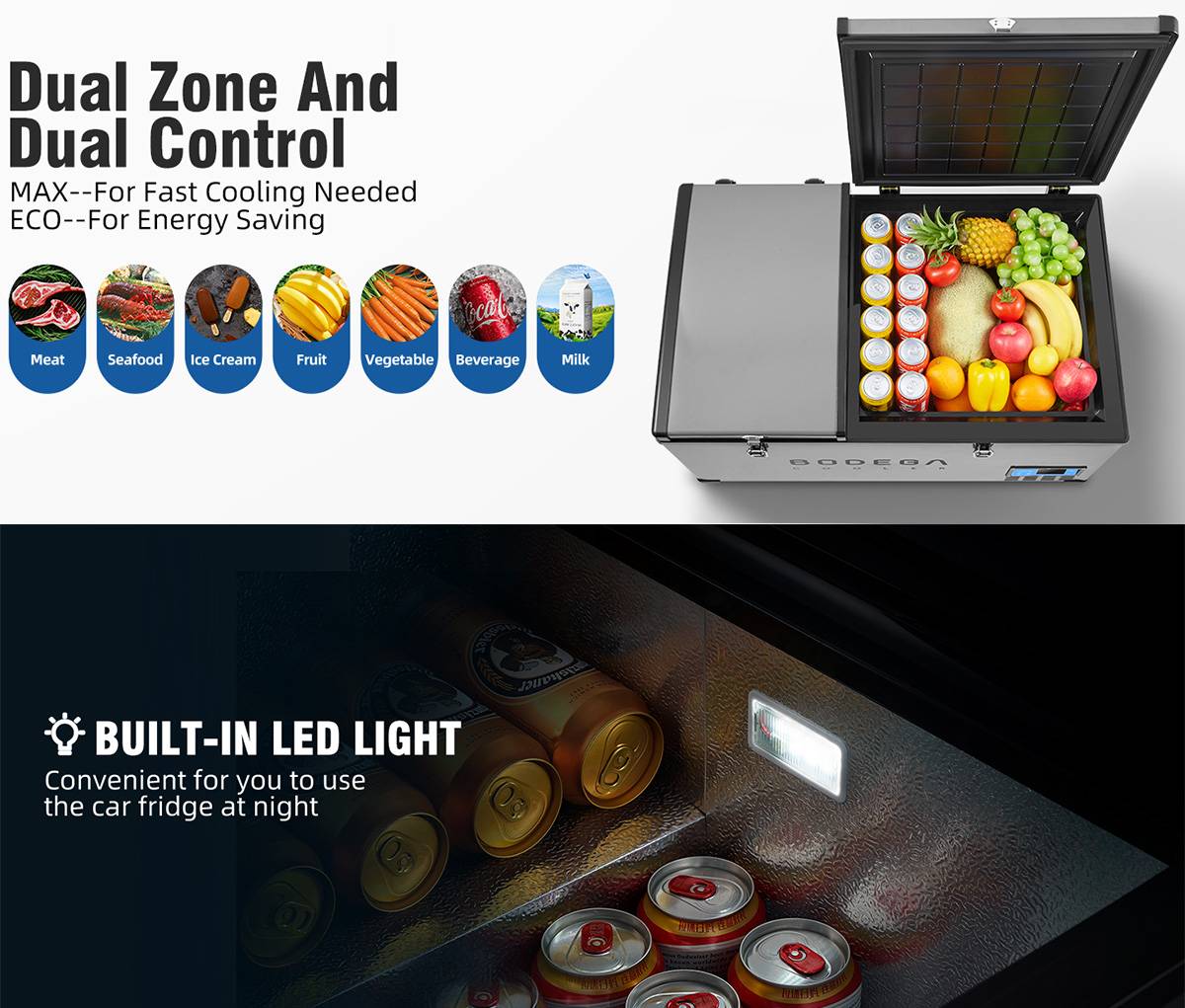 Dual zone and independently controlling allow you to use freezing and refrigeration in any combination (freezer & refrigerator, both freezer, or both refrigerator). Moreover, you can choose to turn off one zone for the purpose of energy-saving.
 TWO COOLING MODES SWITCH EASILY
ECO mode saves energy and promotes sustainability, reducing electricity bills and environmental impact. On the other hand, MAX cooling mode ensures rapid cooling when needed, maintaining optimal temperature conditions, offering flexibility and efficiency for all cooling requirements.
Specification:
| | | |
| --- | --- | --- |
| Model | BCD80 | BD60 |
| Capacity | 85 Quart (80 Liters) | 64 Quart (60 Liters) |
| Dimensions(L*W*H) | 35.47 x 21.73 x17.71 inches | 25.75 x 20.47 x22.24 inches |
| Voltage | AC100-240V,50-60Hz, 12V/24V(DC) | AC100-240V,50-60Hz, 12V/24V(DC) |
| Rated power | 80W | 80W |
| Temperature Control Range | -4℉~68℉(-20℃~+20℃) | -4℉~68℉(-20℃~+20℃) |
| Noise | ≤45dB | ≤45dB |
|  NET Weight | 60.6lb | 45.3Lb |
| Numbers of Door | Dual-Temperature Dual Door | Dual-Temperature Single Door |
Package Included: 
85QT Bodega BCD80 fridge freezer*1
2.5meter DC power cord (12/24V)*1
110~240V AC power cord*1
Instruction book*1
Removable basket*1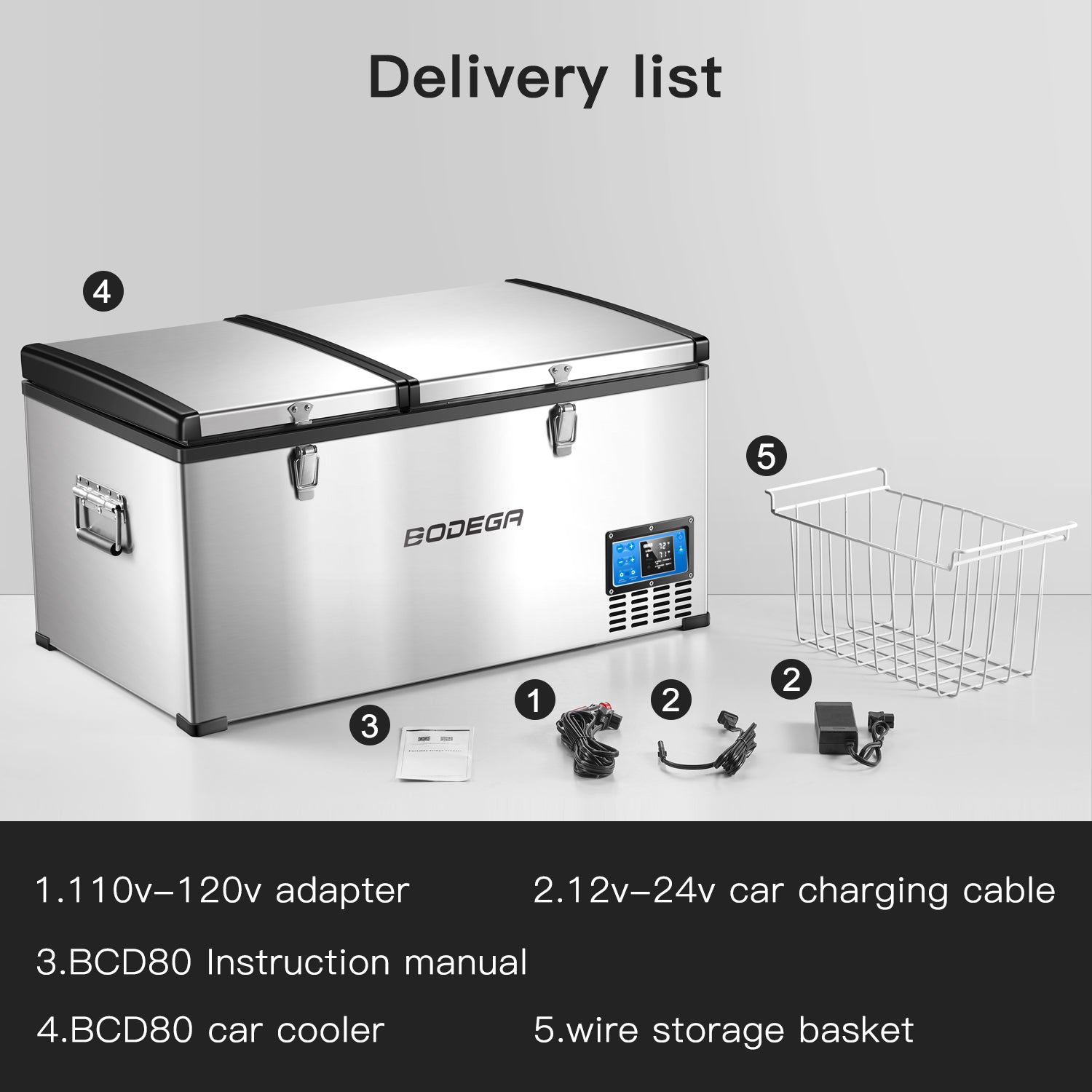 FAQs
Can this freezer be used as a freezer and refrigerator at the same time?
Sure. This refrigerator is a double-zone design. The two zones can be operated independently.
What if the refrigerator is upside down when we receive it?
If you receive your refrigerator and find it upside down, please leave it upright for at least 6 hours before using it.
Is it normal for a refrigerator to have temperature fluctuations while it is cooling?
Yes, it is. Because the refrigerator compressor has energy-saving characteristics, the compressor will stop working to keep warm when it reaches the set temperature. After a period of time, the compressor will work again for refrigeration.
How long can the refrigerator keep the temperature after powering off?
Ambient temperature of 25°C (77°F), refrigerator temperature from -20°C(-4°F) to 20°C (68°F) needs about 6 hours on average. The data only represented the result of the lab experiment with empty box. Everything is based on the actual situation.
If I place an order, how long will the order be processed, and why is there no logistics information for my product?
The processing time is usually 1 working day, and 3~7 business day delivery. There are many parcels in the office, and they need time to arrange them for you, please be patient.