I do want to give a huge shout-out to bodega TWW75 portable refrigerator.
For a really long time, you know that I love these camp refrigerators. I've been using them for years and years, and bodega makes one of the best ones out on the Market.
This one is the TWW 75 it's their big boy but if you've never been to their website you can go there they've got a ton of different sizes and styles to choose from. Small ones for car camping if you want to go on a day trip. They've also got some that will just stick in the back seat of your vehicle all the way up to these big ones, and what I really like about these from bodega is there are a bunch of add-ons and options that you don't get with these other brands. This one for instance has dual zones, so it opens up on both sides. It's got LED lights on the inside, and you can control the climate on each side of the refrigerator, so if you have some frozen stuff on one side you can freeze it.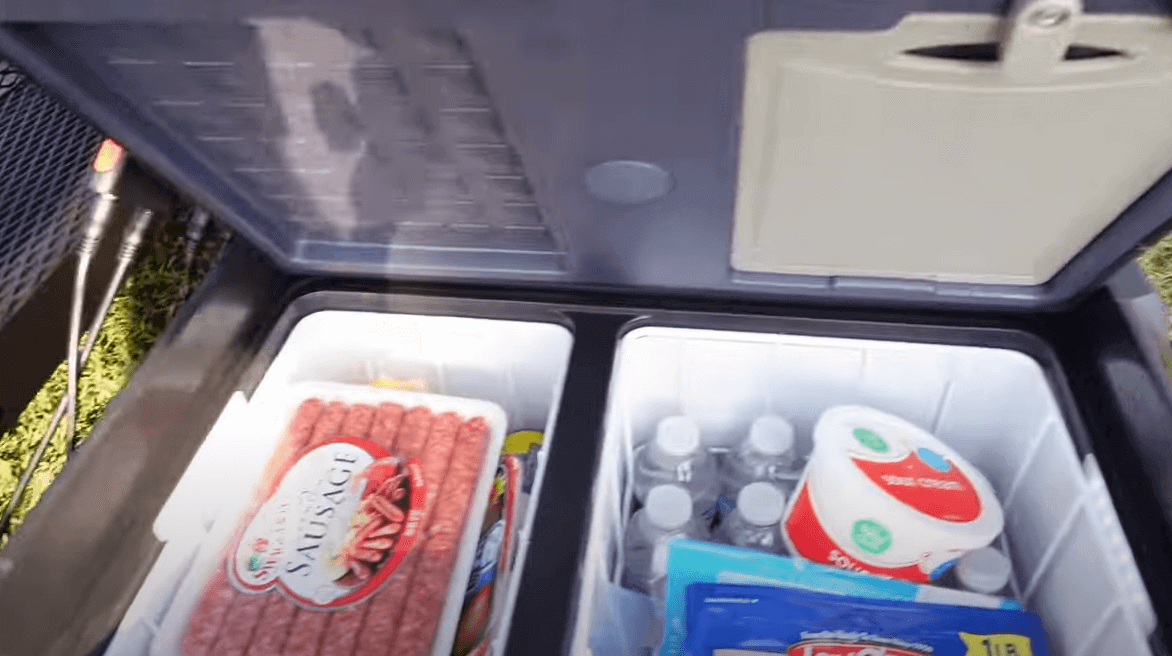 If you want to keep some stuff just chilled on the other side, you can do that, and you don't have to have ice anymore. I've had one for two years that I still use, this is a new one that I just picked up from them. It's their big boy, they have the wheels, so you can slide them or roll them around.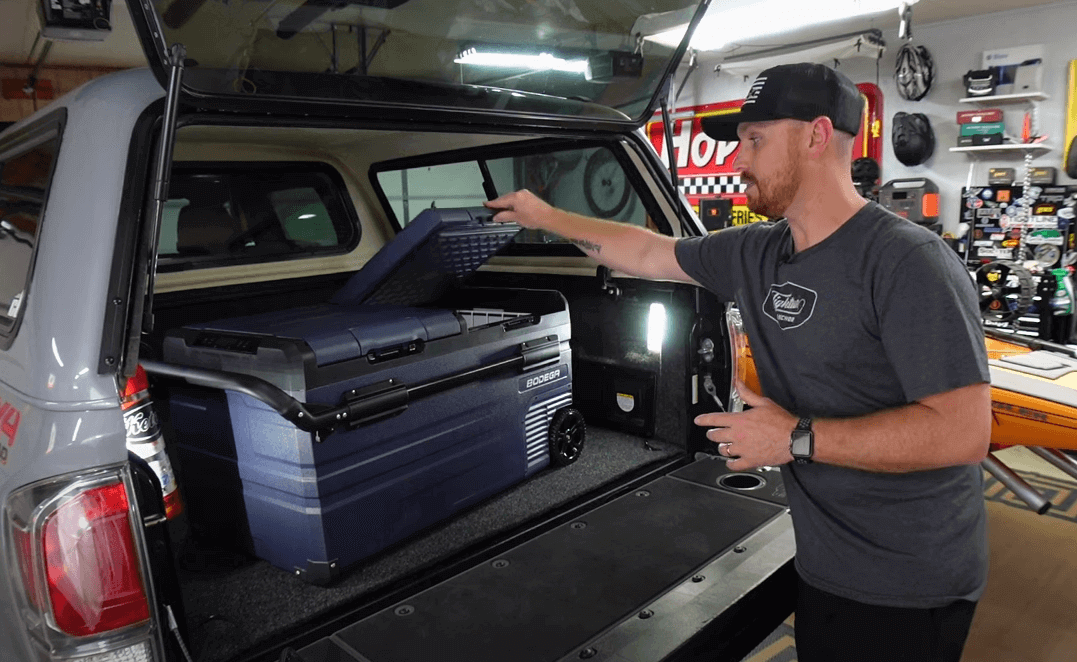 If you're going to a beach somewhere or out by the lake you can pop out their telescopic handle just like that pick it up and roll it around, these things don't weigh that much. 
Another really cool thing is the digital display they have on the front of these, and they're app controlled, so they come with an app that you can use and if you've got this in the back of your truck you can monitor the temperature on both sides. And actually adjust it while you're going down the road using the app, so you don't even have to mess with the actual display on the side of it.
 One last thing I want to mention theirs which kind of sets them apart from the rest of the competitors is, they have a door that's on the back of these, you open up this door.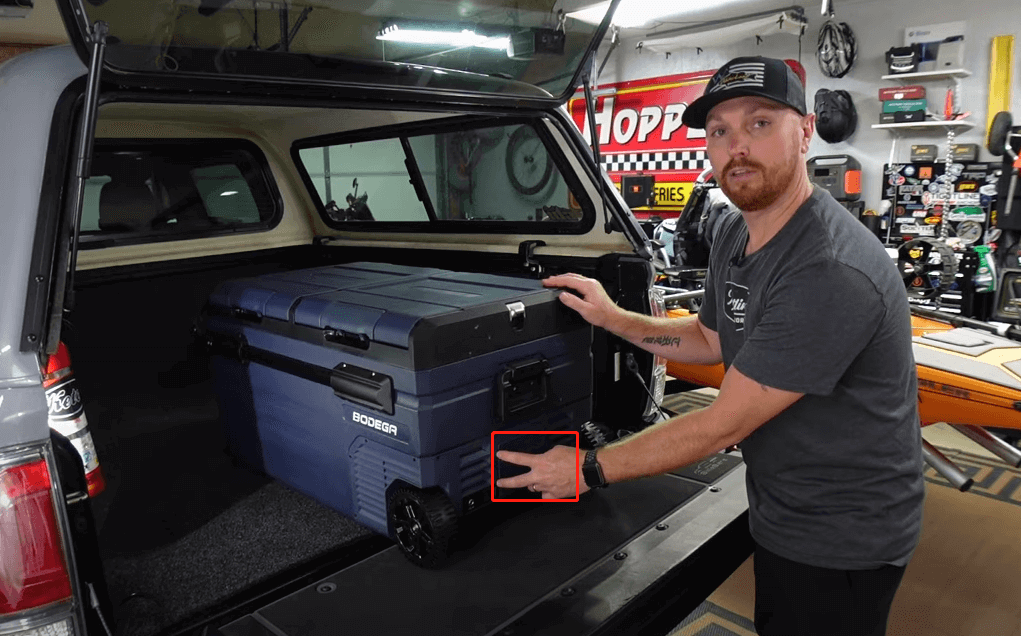 They actually sell a battery pack that you can pop in here. If you don't use the battery pack, they do come with a DC hookup and an ac hookup. So they come with a power pack, and then they come with an ac a regular wall outlet, but they also come with this really long cigarette lighter port or 12 volt port that you would plug into your vehicle socket.  
You can run your refrigerator off,  but if you go somewhere you don't have power, they sell these battery packs that last up to like eight or ten hours. I've had one last me all day just running off the battery pack, so, and a good tip for that is to go ahead.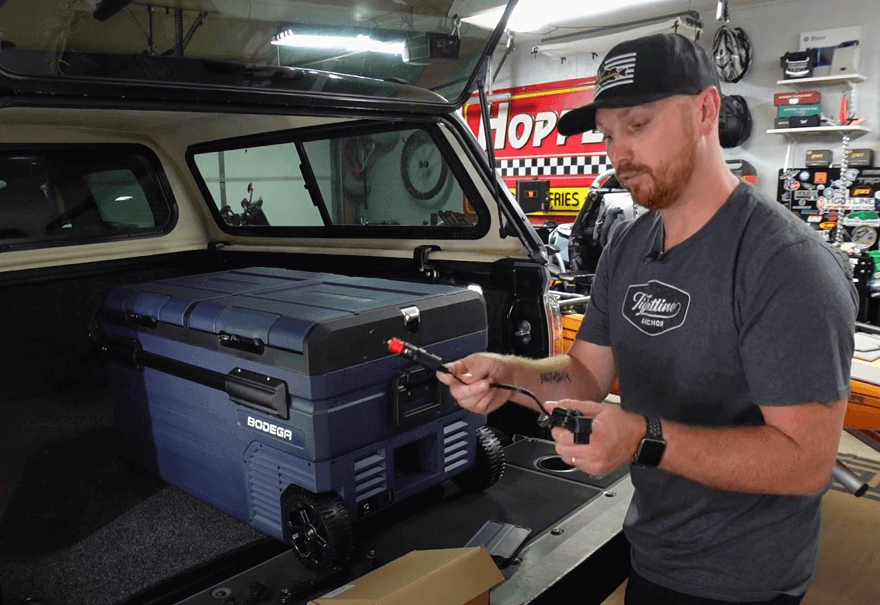 If you plan on going out go ahead and plug it up at home chill it, get it to the temperature you want, and put your food in. When you leave, you pop your battery in, that way, our battery doesn't have to produce the power to cool everything. It'll already be cool, and then that battery will last all day long. It'll maintain the temperature inside your cooler or your refrigerator. You can just run with that. There's just a big slot on the back you pop your battery in, it's got some blue LED lights, and you can control it that way. 
These things are awesome. They've even just incorporated a bottle top opener on the back of the thing, so these are really cool, huge shout out to bodega about these refrigerators.
Get you one if you don't have a good camp refrigerator.
From TJ