As the holiday shopping season gets closer, it's never too early to start planning what items you want to shop for. It's the perfect time to get all the things you need for all the special people in your life (as well as yourself!) Most importantly, you're also able to buy all the appliances you need, whether that be a outdoor appliance like an car fridges or home appliance like a wine cooler or beverage fridge to store all kinds of things in.

Storing all your favorite drinks (or keeping your favorite beauty products chilled!) has never been easier. Of course, not all mini fridges are made equal, so be sure to look for options with special features like a can holder or a separate freezer if that's something you're interested in.
Now BODEGAcooler Thanksgiving Day Sale is ongoing! Grab this chance to select your favorite wine coolers!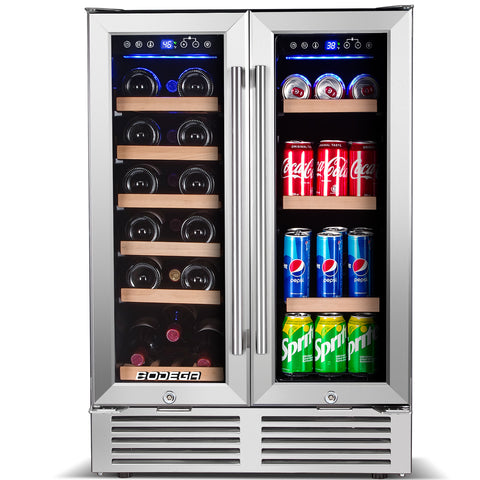 BODEGAcooler 24" Built-in Dual Zone 19 Bottles and 57 Cans Beverage and Wine Cooler
If you're looking for something versatile, efficient, and reliable, this multipurpose beverage center checks all the boxes. With dual-temperature chambers and smart controls, a front vent (so you can build it into cabinetry), security locks, adjustable shelves, an odor-reducing carbon filter, and a high-efficiency compressor with powerful circulation, this cooler ensures that your bottles and cans are safe and sound on their respective sides. Note that the left zone's temperature ranges from 41 to 68 degrees, while the right zone ranges from 38 to 50 degrees. This is a very quiet machine, but you'll hear the occasional noise as the compressor works.
BODEGAcooler 15" Built-in 31 Bottles Wine Cooler in Stainless Steel with Wood Shelves
Compact and budget-friendly, this 31-bottle freestanding wine cooler is a straightforward solution for small collections looking to live harmoniously in a single temperature zone. It's perfect if you're passionate about having a variety of chilled wines on hand at any given time or have a small collection of special cellar-worthy vino. This cooler features a temperature range of 41 to 68 degrees,  LED lighting, touchscreen controls, a built-in fan for cooling consistency.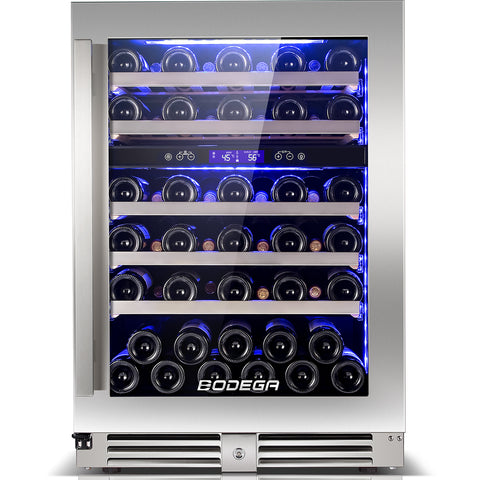 BODEGAcooler 24" Built-in 52 Bottles Wine Cooler with Wood Shelves, Dual Zone
For wine lovers missing the luxury of a cellar, a cooler is essential, whether you're storing reds long-term or just enjoy keeping chilled wines on hand at all times. In order to have both in your home, you'll want to invest in a dual-zone cooler because different wines are best served at different temperatures.
This top-rated 52-bottle freestanding model is as sleek and functional as they come, featuring a stainless steel construction, door lock, adjustable racks, touchscreen control for both zones, and low-noise machinery.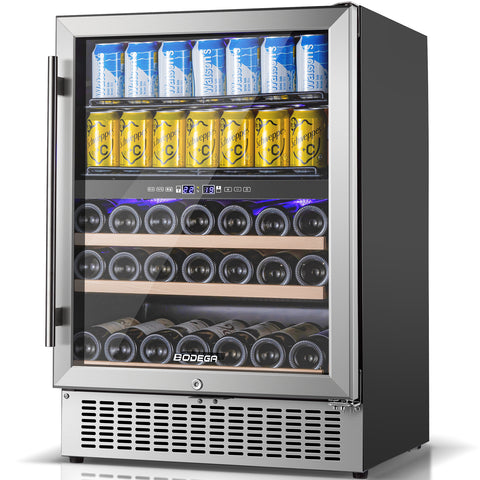 BODEGAcooler Built-in Dual Zone 80 Can and 27 Bottles Beverage and Wine Cooler -YC-150B
Get the best of both worlds in the form of this energy-efficient, dual-zone drink cooler with touchscreen controls. With the lower side dedicated to wine display and the upper side for keeping soda, beer, this cooler has space for 27 bottles and 80 cans. The upper zone ranges 37 to 50 degrees, while the lower zone ranges 54 to 64 degrees.