Source: https://www.yuenx.com/ by: Michael Yuen
Day Trip Bag
Ever since I have been spoiled by car refrigerators, I had stopped using cooler bags because I did not want to mess with having to buy and replenish ice — not to mention having a wet stew of items mixed within melted ice water. However, coolers and cooler bags still serve an important function for those who want simplicity, dependability, and are on a budget. Coolers are far less complicated than car refrigerators that depend on batteries and sustained power sources to keep running.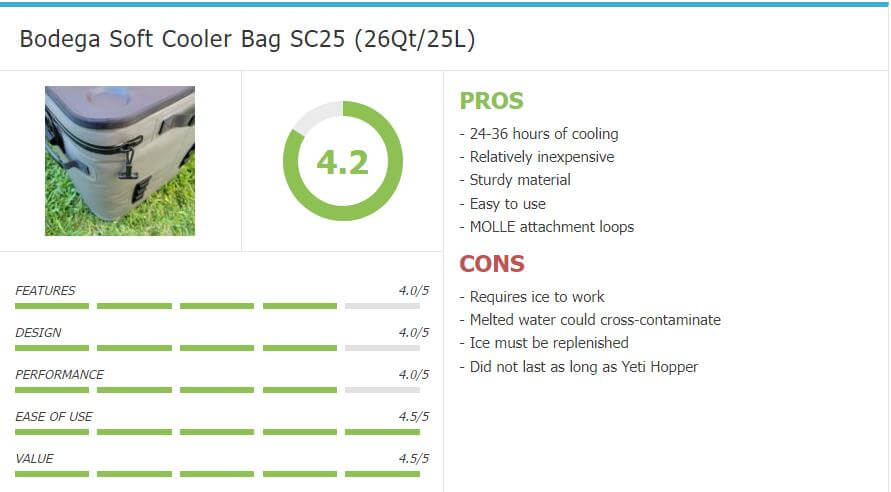 Bodega, makers of car refrigerators, sent me a sample of their Soft Cooler Bag SC25 (26Qt/25L) for evaluation. I had also included it in my Bodega Cooler Mini P15 car freezer review.

Analysis
Car refrigerators are expensive. So are premium soft cooler bags or ice chests by the likes of Yeti, RTIC, and Engel. If you are on a budget or do not want to deal with having to provide constant power to a car freezer, insulated cooler bags may still be good options.
There are pros and cons to both types of cooling methods.
Advantages of Car Freezers
Can cool or freeze content (-4F to 68F / -20C to 20C)

Temperature can be maintained at a safe level (ie. 32F – 40F for meats or below freezing for ice cream)

Do not require ice

No melted water to empty or to cross-contaminate content

Can run virtually forever when paired with a generator, battery power station, car charging port, and/or solar panel
Much more puncture resistant than Soft Cooler Bags
Advantages of Insulated Soft Cooler Bags
Usually less expensive, unless it's a premium one from the likes of Yeti, RTIC, or Engel

Bodega's Soft Cooler Bag SC25 provides more capacity (26Qt/25L vs Cooler Mini P15's 16qt/15L) at a much lower price of $166 than the P15's $380

Lighter
Does not require any type of power, though ice will need to regularly be replenished and water dumped
No mechanical or electronic components that could fail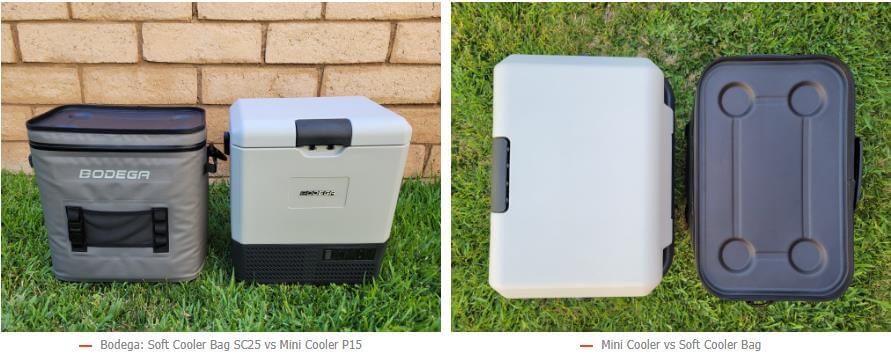 Cooling Test
I put the Bodega Soft Cooler Bag SC25's cooling capacity to the test by dropping a 10lb bag of ice and periodically checking when all was melted. It lasted 1.5 days before all ice was completely gone, but one should note that the interior temperature was hovering at about 48F after 24 hours. That would have kept meat at an unsafe level (they must be stored at or below 40F) and caused cross-contamination with any fruit or other edibles you may have had inside. The water was still very cold on the evening of the second day. In contrast, the Yeti Hopper lasted about 50 hours — or 14 more hours than the SC25 — before the ice was completely gone. Mind you, the Hopper also costs twice as much at $350.

 What the test showed is that the Bodega SC25 did a decent job keeping the content at an "ice-cold" temperature for at least 24 hours before a melted mess would ensue. That makes it suitable for multi-day trips where no consumables, such as drinks, must be kept at 40F or below. It also illustrates that ice must be replenished daily in order to keep the inside cold at 40F or lower.
Final Thoughts
The Soft Cooler Bag SC25 is rigid with a thick insulation layer, flanked by sturdy carry handles on the sides and clips to which a shoulder strap could be attached. I expected the zipper to be difficult to open and close like the Yeti ones, and indeed it is, but that is what keeps the content well-insulated from the elements. I did notice the insulation layers meeting snuggly when in the closed position to additionally help keep the content cool. The lid has four indentations for cans to rest on, and the back is adorned with a large carry handle and a pair of 3-holed MOLLE/PALS nylon fabric for attaching accessories (like a flashlight) and equipment. The front has an additional pair of nylon fabric that is connected with a small mesh netting and a bottle opener.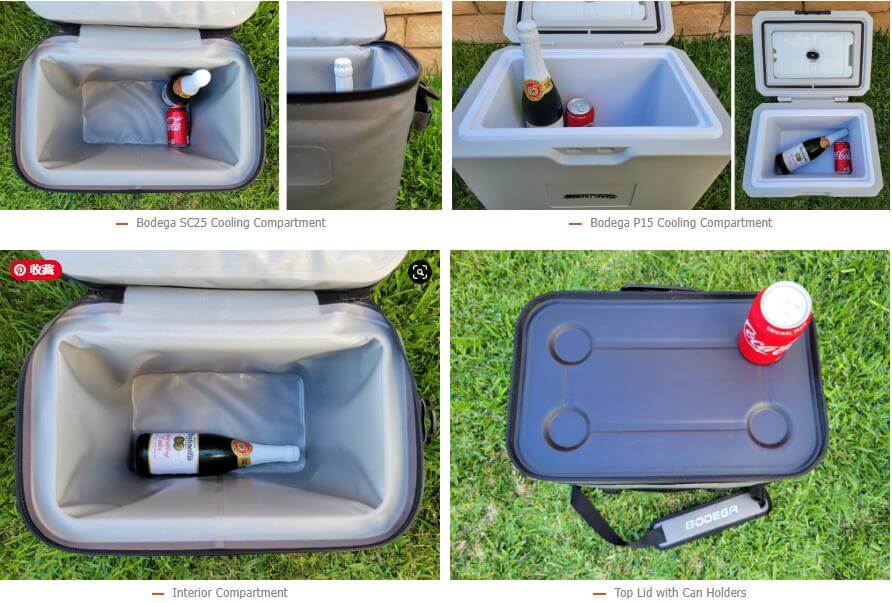 Dimensionally, the SC25 Bag is 16.5″ W x 17.2″ H x 10.2″ D (contrast that to the Mini Cooler P15 Car Refrigerator's similar 17″ W x 18.4″ H x 12.2″ D) and weighs 7.2 lbs when empty (P15 is triple that at 22.5 lbs). The Soft Cooler Bag has a 60% larger capacity at 25L than the P15's 15L.
Whether the Bodega SC25 is for you depends on your needs. Lasting 1.5 days at half the price of a Yeti Hopper (which held ice for 14 more hours), it may be a viable, economical option if you just need to keep content cool for 24 hours. One would not have to deal with technology the same way car freezers do (like power stations and batteries) — you simply put ice into the bag and that's it! No mechanical parts or calculations to worry about for how much longer a battery would last.
The biggest downside is that ice must be constantly replaced to maintain temperature. This is not a problem for keeping drinks cool, but if you needed to keep food items that are not stored in watertight containers, the melted water could present some health hazards due to cross-contamination. This can be partially remediated by separating drinks (at bottom) and food (on top) with a towel, so the latter would not sink into the ice water.
Where To Buy