Souce: https://www.yuenx.com/ by: Michael Yuen
The manufacturer caught my attention with its cooler-styled Cooler Mini P15 car freezer that looked like it could especially fit in the trunk of my newly-purchased Toyota Sienna 2022. I reached out to Bodega for a review unit.
Bodega's Cooler Mini P15 car freezer is in a different form factor than all others I had previously reviewed. Rather than being long akin to an ice chest, it sits tall for easier, one-handed carry. That presents some advantages and disadvantages to what sized items can be transported: taller, skinnier things like bottles fit wonderfully, but a rack of ribs would be challenging to squeeze in. What makes this appliance particularly useful is what only some manufacturers are starting to include: a battery. What makes that special? It provides the ability to run a refrigerator from anywhere you want without needing it to be plugged in to a power source — at least for a limited time until battery depletion.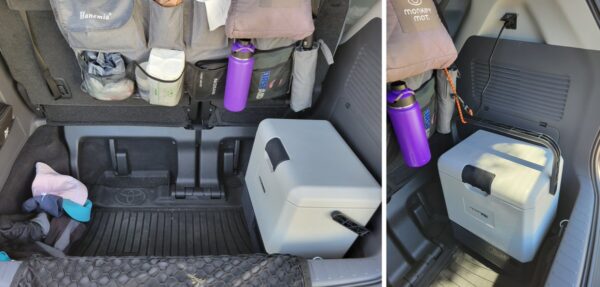 The Bodega P15 delighted me with not just one, but two 173Wh battery slots (11.1V) that could provide power for 4-12 hours each. Imagine that… a car fridge that could run for 8-24 hours without charging! Runtime primarily depends on ambient temperature — the cooler the surrounding area, the less the compressor must kick in to cool, and the longer it can last. It consumes 25W-50W while cooling and sips only about 2W once the desired temperature has been reached. Each battery can independently be turned on or off.
The batteries can be charged in one of two ways, whether they are turned on or off themselves: while plugged into the appliance or externally with an optional AC Charging Station. Solar panel input is not available even though their higher-end models have a solar port included. I do wonder if a solar panel can be directly connected to the battery with a cable and integrated charging controller? Certainly plausible with the right DC connector — and most importantly, Acopower DOES have that option available with their own batteries. Either way, all their products use the same battery, and interestingly, Bodega and Acopower share the same battery specifications. An AC wall adapter and car charger are included, and the appliance automatically resumes by continuing operation when power is cut off and later restored.
Like many car freezers, the Bodega went from 78F to 32F (freezing) after just 25 minutes in 78F ambient temperature and took another 30 minutes to get to 0F. It can operate between -4F and 68F (-20C to 20C) and as such be used as a fridge, freezer, or deep freezer. No Temperature Compensation (TC) adjustments needed to be made like the Acopower LiONCooler X40A, and that is a welcome sight for consumers who do not want to tinker with technical details to get their appliance to operate within expected parameters. I did not test programming from the LCD control panel, though I expect it to work the same way as other Alpicool-made units.
Interior was tall enough to accommodate most of my beverages, but a standard wine bottle could only fit diagonally across. And that is where the pros and cons come in with compartments that are designed taller than wider: items of certain dimensions will fit better here than with others. Personally, I prefer wider compartments because then I could also keep the lid open, for example, to use the appliance as a temporary holder of take-out food and drinks where stacking would not be ideal. On the other hand, taller car fridges take up less ground space and make them ideal for deep trunks like a minivan's.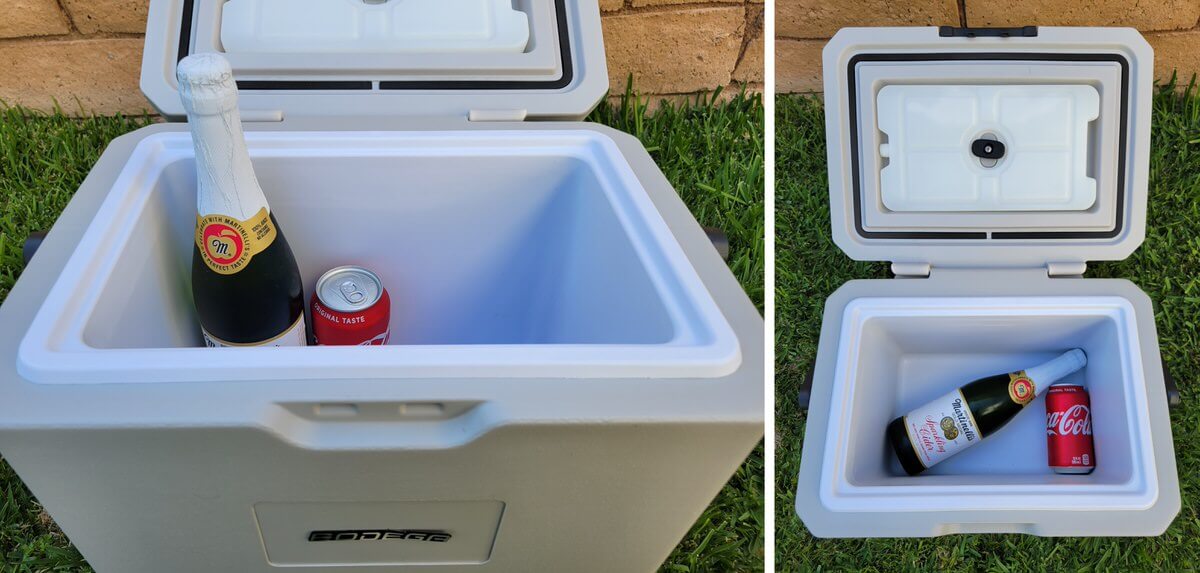 Under the non-removable lid is a reusable ice pack — a first for any car freezer I had ever tested — that could be filled with water up to about 90% full (for ice expansion). The idea here is that the water will then cool down or become icy enough to help keep the content colder for longer. Nice touch! One could perhaps also drink out of it in an emergency, I suppose.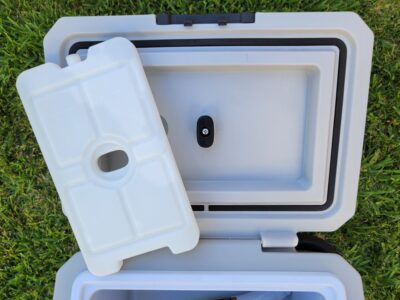 I found the placement of the LCD control, where a 2.1A USB port is available for charging mobile devices with, to be inconveniently located too far towards the bottom, but considering that the compressor is housed down there too, it makes sense. Above the LCD is where the refrigerated compartment sits on. Like many Alpicool-made car refrigerators, this one by Bodega also uses the "Car Fridge Freezer" smartphone app by Alpicool (available for Android, Apple iOS). Oddly, after I initially paired the app to the appliance via Bluetooth, the controls did not work until I restarted the app. It was good to see that no Temperature Compensation settings needed to be changed to calibrate the sensors with the control panel temperature display. This unit has three levels of car battery protection to prevent it from completely draining your vehicle's battery.
There is no drain hole included because the cooling space sits above the compressor. That makes it more difficult and inconvenient to clean and/or drain any liquid. The P15 measures 17″ W x 18.4″ H x 12.2″ D (43.3cm x 46.7cm x 31cm) and weighs 22.5 lbs (10.2 kg) when empty. Each battery weighs about 2.4 lbs (1.1 kg). Its tall size and small footprint help it fit behind the first row of a passenger car or truck and perfectly in the Toyota Sienna 2022 minivan's trunk.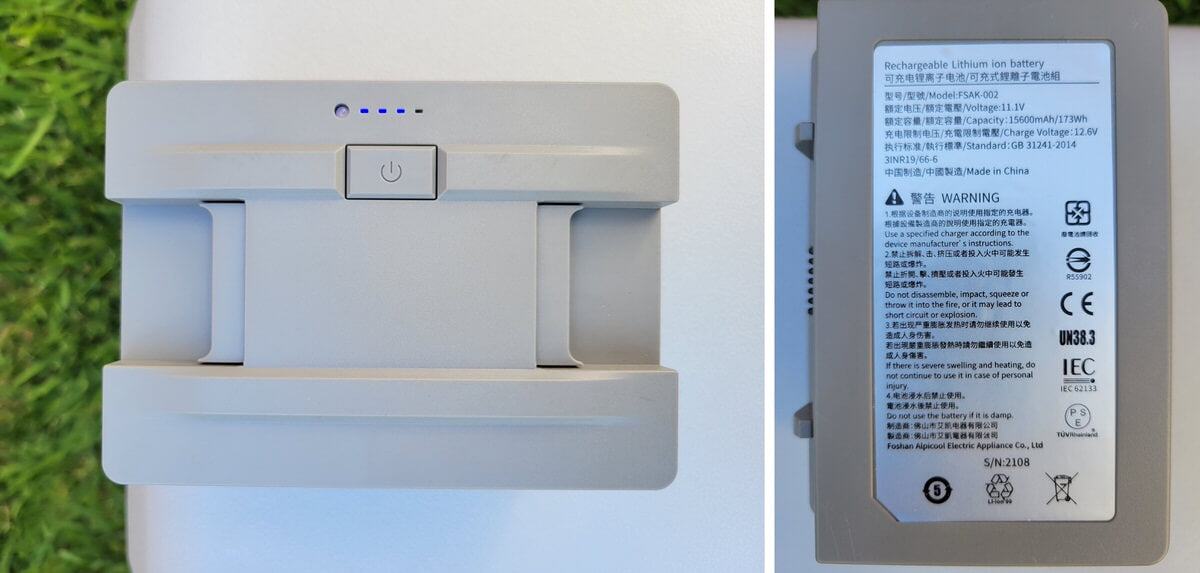 Overall, I have mixed feelings about the form factor of this Bodega. On one side, it is easily carried with one hand, takes up less floor space in a deep trunk of the Toyota Sienna minivan, and makes it easier to fish out items among a sea of other packed items of the cargo space. On the other, the taller cooling compartment favors taller items than wide ones, but also makes the appliance less stable while vehicle is in motion. Thankfully, the carry handle can be corded down to an anchor or seat head rest. The Bodega Cooler Mini P15 is a cool (pardon the pun) car fridge/freezer and serves a purpose that wider ones ignore. It is perfectly ideal for a day trip to the beach or picnic and can be powered for nearly 24 hours with the use of two batteries — without ever needing to refill the cooling space with ice or drain any melted water! Pair that with one or more solar panels connected to a portable power station and Bodega's AC Charging Station, and you could have a fridge that could virtually run forever. That is the power that car fridges have over ice chests/coolers.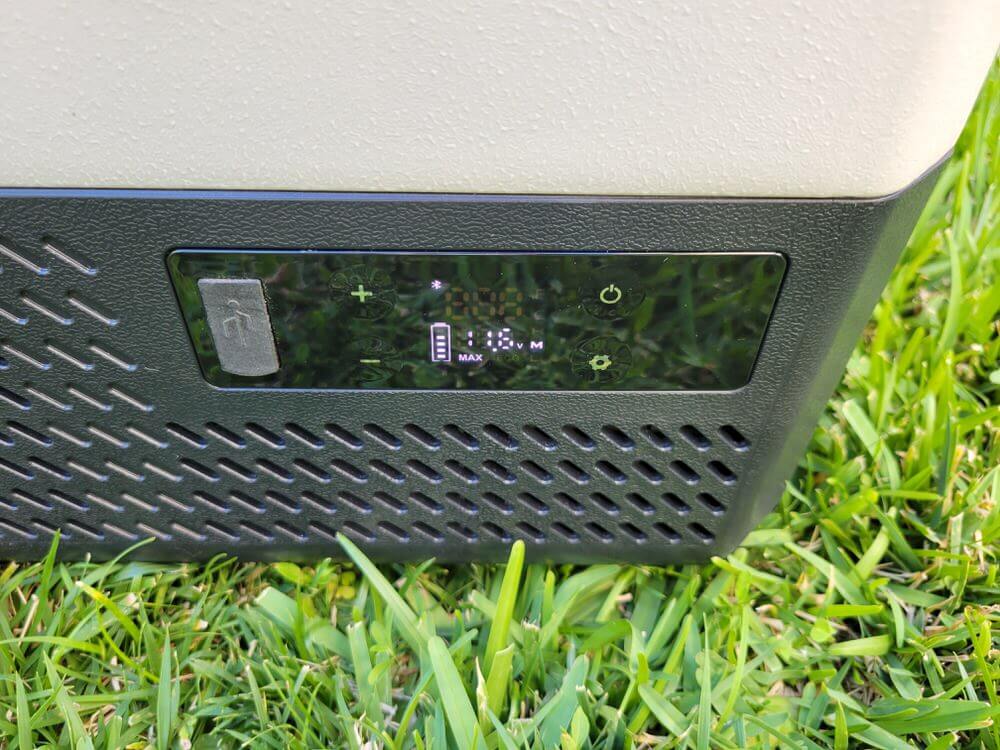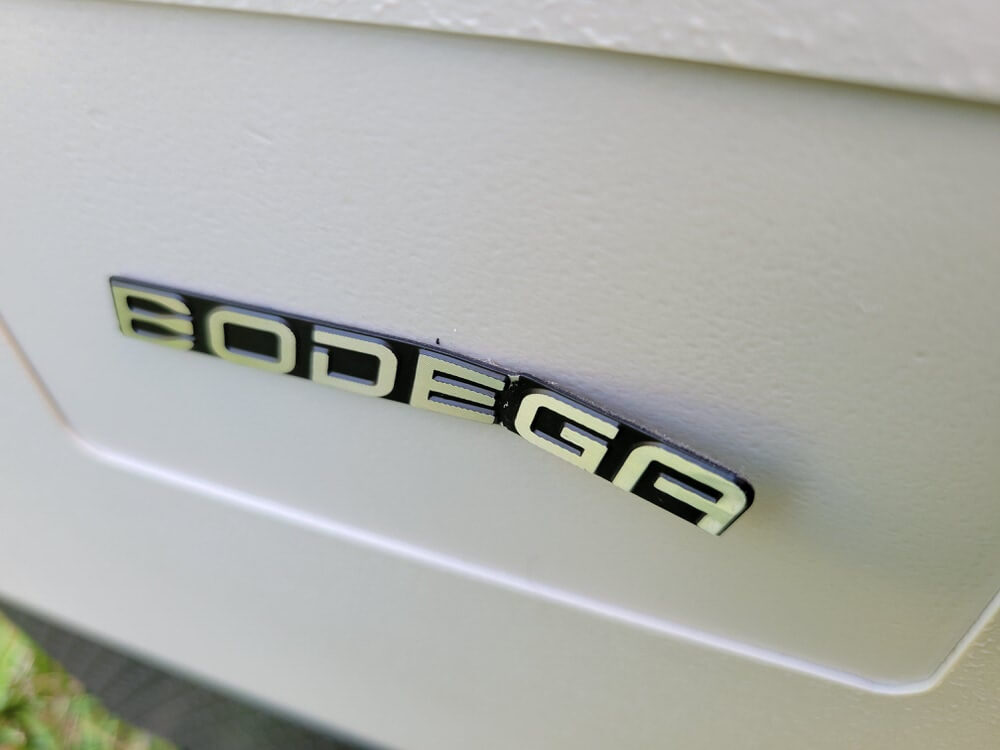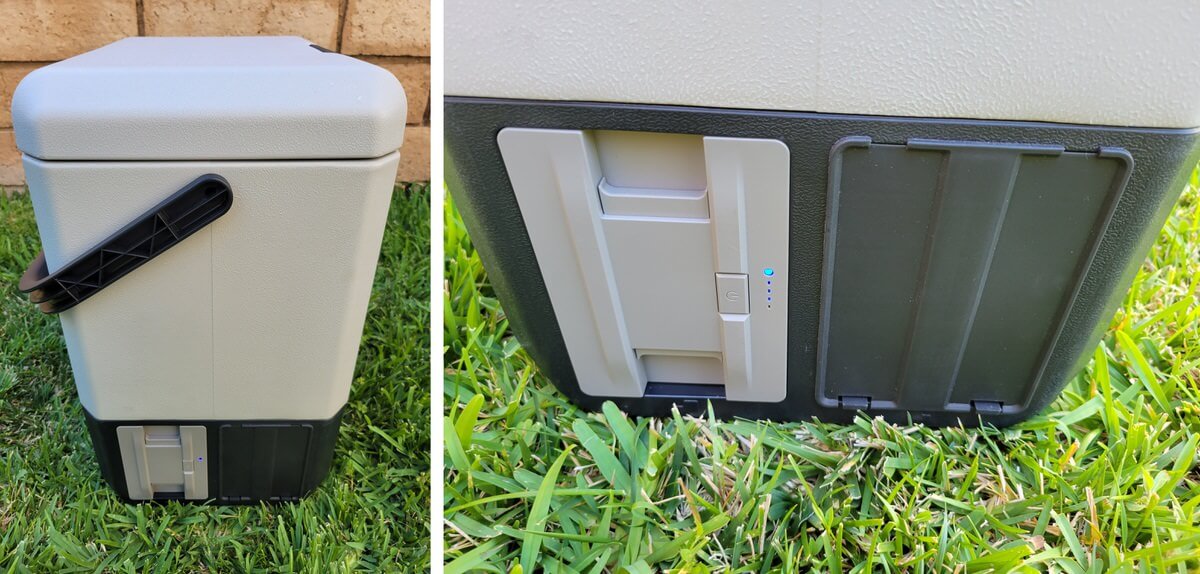 Bonus: Bodega Soft Cooler Bag SC25 vs Mini Cooler P15
Car refrigerators are expensive. So are premium soft cooler bags or ice chests by the likes of Yeti, RTIC, and Engel. If you are on a budget or do not want to deal with having to provide constant power to a car freezer, insulated cooler bags may still be good options.
As I had previously mentioned, there are pros and cons to both types of cooling methods.
Advantages of Car Freezers
Can cool or freeze content (-4F to 68F / -20C to 20C)

Temperature can be maintained at a safe level (ie. 32F – 40F for meats or below freezing for ice cream)

Do not require ice

No melted water to empty or to cross-contaminate content

Can run virtually forever when paired with a generator, battery power station, car charging port, and/or solar panel
Much more puncture resistant than Soft Cooler Bags
Advantages of Insulated Soft Cooler Bags
Usually less expensive, unless it's a premium one from the likes of Yeti, RTIC, or Engel

Bodega's Soft Cooler Bag SC25 provides more capacity (26Qt/25L vs Cooler Mini P15's 16qt/15L) at a much lower price of $166 than the P15's $380

Lighter
Does not require any type of power, though ice will need to regularly be replenished and water dumped
No mechanical or electronic components that could fail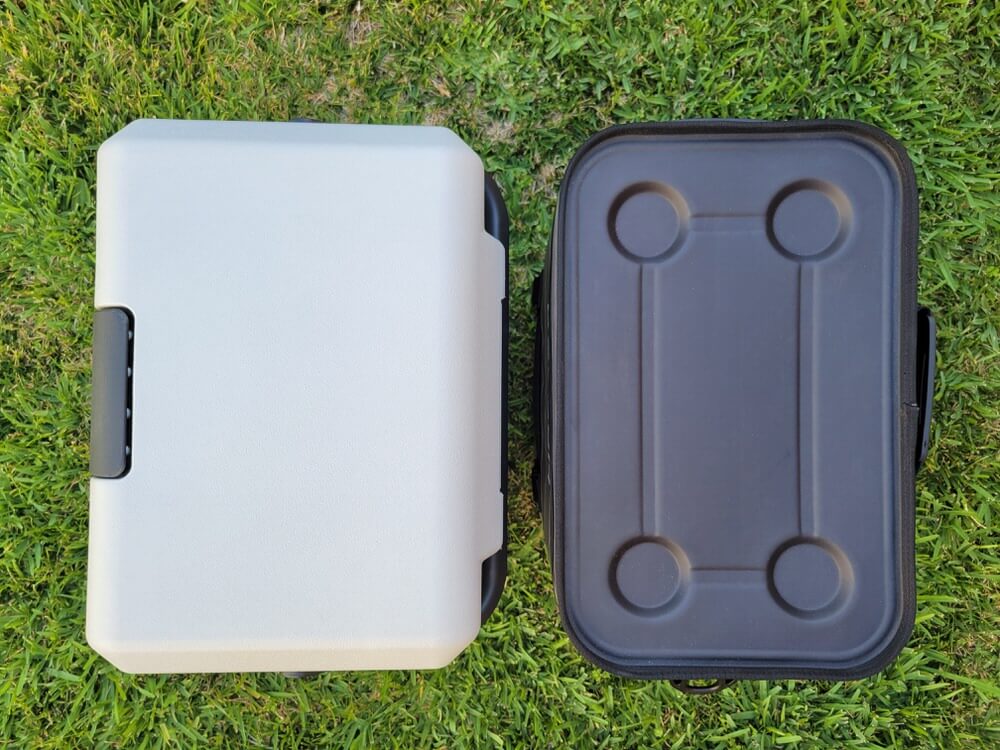 Cooling Test
I put the Bodega Soft Cooler Bag SC25's cooling capacity to the test by dropping a 10lb bag of ice and periodically checking when all was melted. It lasted 1.5 days before all ice was completely gone, but one should note that the interior temperature was hovering at about 48F after 24 hours. That would have kept meat at an unsafe level (they must be stored at or below 40F) and caused cross-contamination with any fruit or other edibles you may have had inside. The water was still very cold on the evening of the second day. In contrast, the Yeti Hopper lasted about 50 hours — or 14 more hours than the SC25 — before the ice was completely gone. Mind you, the Hopper also costs twice as much at $350.
What the test showed is that the Bodega SC25 did a decent job keeping the content at an "ice-cold" temperature for at least 24 hours before a melted mess would ensue. That makes it suitable for multi-day trips where no consumables, such as drinks, must be kept at 40F or below. It also illustrates that ice must be replenished daily in order to keep the inside cold at 40F or lower.
Thoughts On Bodega's SC25 Bag
The Soft Cooler Bag SC25 is rigid with a thick insulation layer, flanked by sturdy carry handles on the sides and clips to which a shoulder strap could be attached. I expected the zipper to be difficult to open and close like the Yeti ones, and indeed it is, but that is what keeps the content well-insulated from the elements. I did notice the insulation layers meeting snuggly when in the closed position to additionally help keep the content cool. The lid has four indentations for cans to rest on, and the back is adorned with a large carry handle and a pair of 3-holed MOLLE/PALS nylon fabric for attaching accessories (like a flashlight) and equipment. The front has an additional pair of nylon fabric that is connected with a small mesh netting and a bottle opener.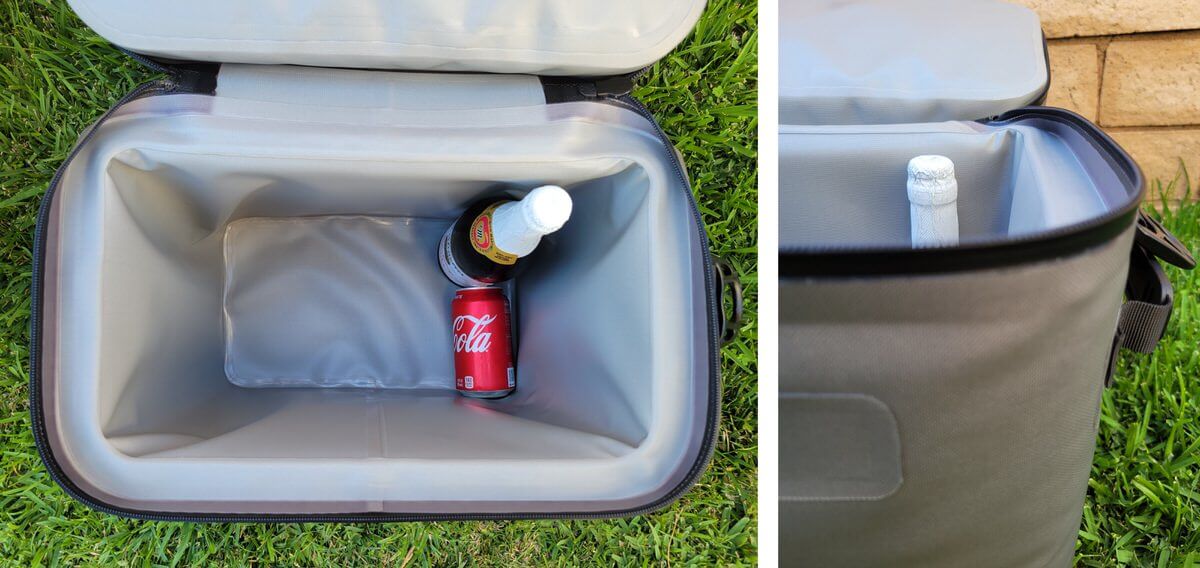 Dimensionally, the SC25 Bag is 16.5″ W x 17.2″ H x 10.2″ D (contrast that to the Mini Cooler P15 Car Refrigerator's similar 17″ W x 18.4″ H x 12.2″ D) and weighs 7.2 lbs when empty (P15 is triple that at 22.5 lbs). The Soft Cooler Bag has a 60% larger capacity at 25L than the P15's 15L.
Whether the Bodega SC25 is for you depends on your needs. Lasting 1.5 days at half the price of a Yeti Hopper (which held ice for 14 more hours), it may be a viable, economical option if you just need to keep content cool for 24 hours. One would not have to deal with technology the same way car freezers do (like power stations and batteries) — you simply put ice into the bag and that's it! No mechanical parts or calculations to worry about for how much longer a battery would last. The biggest downside is that ice must be constantly replaced to maintain temperature. This is not a problem for keeping drinks cool, but if you needed to keep food items that are not stored in watertight containers, the melted water could present some health hazards due to cross-contamination. This can be partially remediated by separating drinks (at bottom) and food (on top) with a towel, so the latter would not sink into the ice water.
Let's get back to discussing the Bodega Cooler Mini P15 Car Refrigerator.
Tips
Important:

 

Let car freezer rest for 10+ hours after delivery to allow refrigerant to settle before use or you will cut the product's life short!
Test the compartment with a reliable thermometer prior to use

If temps are more than +/- 5F degrees off, you may need to re-calibrate the appliance. See

 

Temperature Compensation
Compressor Power
To set: When powered on, briefly press Settings button to cycle between Max (Default), Eco.
Max:

 

Useful when surrounding temperature is 86F+ (30C) and Fast-Cool is needed. Runs compressor at a higher speed
Eco:

 

Uses less energy. Temperature fluctuates slightly. Could ruin compressor in the long run
Battery Voltage Protection
To set: When powered on, hold Settings for 3 seconds. Cycle between High (Default), Medium, Low with Settings button.
Car freezer will turn off when battery reaches corresponding voltage level. High 11.6V / Medium 10.1V / Low 9V
Incorrect setting could leave you stranded with a non-starting car. When connecting to:

Battery power station. Use

 

Medium

 

or

 

Low
Car. Use

 

High

 

or

 

Medium
Power On-The-Go
If you plan on taking the appliance with you on a trip, there are multiple ways to power it. Ensure the source can provide at least 60 watts. Some options:
12V/24V DC car outlet
110V AC wall charger
Its own, removable, rechargeable 173Wh battery (up to two)

Can be independently charged with an optional

 

AC Charging Station

Battery power station paired with:

100W+ Solar panel(s)
Car charger
See "Runtime with Battery Power Stations" to find the right battery size for you
My Traveling Setup
I plug the car freezer directly into the car 12V outlet. This charges the built-in battery at the same time. When car is turned off, the built-in battery (when left on) will continue powering the freezer. You may also plug the Bodega into a battery power station:
Car's 12V DC outlet > Car charger > Battery power station > Battery's 12V DC output > Car freezer
 Temperature Compensation (TC)
Car Freezer not cooling at the correct temperature? If you find the temperature displayed on the control panel is different than what is actually inside, the discrepancy can result in content overcooling or being too warm. For instance, if you meant to keep fruit cool at a set 40F, but the true temp inside is 32F, you will unintentionally have FROZEN fruit. Or, if you wanted to keep meats frozen at 29F, but the true temp inside is 36F, you may find the content having melted.
The displayed temperature should be roughly the same (by about 2C/4F by default, set by the Hysteresis option) as the actual one inside because the compressor will ONLY stop cooling when the display (not the storage's true temp) matches the set degrees.
To correct the discrepancy between the set/displayed temperature and what the internal storage really is, place two, reliable thermometers inside and perform tests with temps set to 0C, -9C, and -20C (one for each of the TC ranges found in the smartphone app's "Advanced Settings" section). I found the calibration easier to start with the warmer values first. If, for example, the display is 8C, 4C, and 1C higher (for each range) than what is inside, set the temperature compensations to: T > -6C = -8C, -12 < T < -6C = -4C, and T < -12C = -1C. Each difference of 1C is 1.8F.
Runtime with Battery
To calculate how long the car freezer could be used for with its optional batteries or external power station depends on battery capacity (Wh) and how much power (W) the appliance draws.
With Optional Bodega Batteries
Runtime with

 

Built-in Battery/ Batteries

The

 

Bodega

 

comes with a

 

173Wh

 

battery, and you can install

 

two (2)

 

of them
Fridge can last as short as 3.5 hours (173Wh / 50W) with a single battery or 7 hours (173Wh x 2 / 50W) with both
In reality, because the unit stays IDLE most of the time, it should last a LOT longer than the hours listed above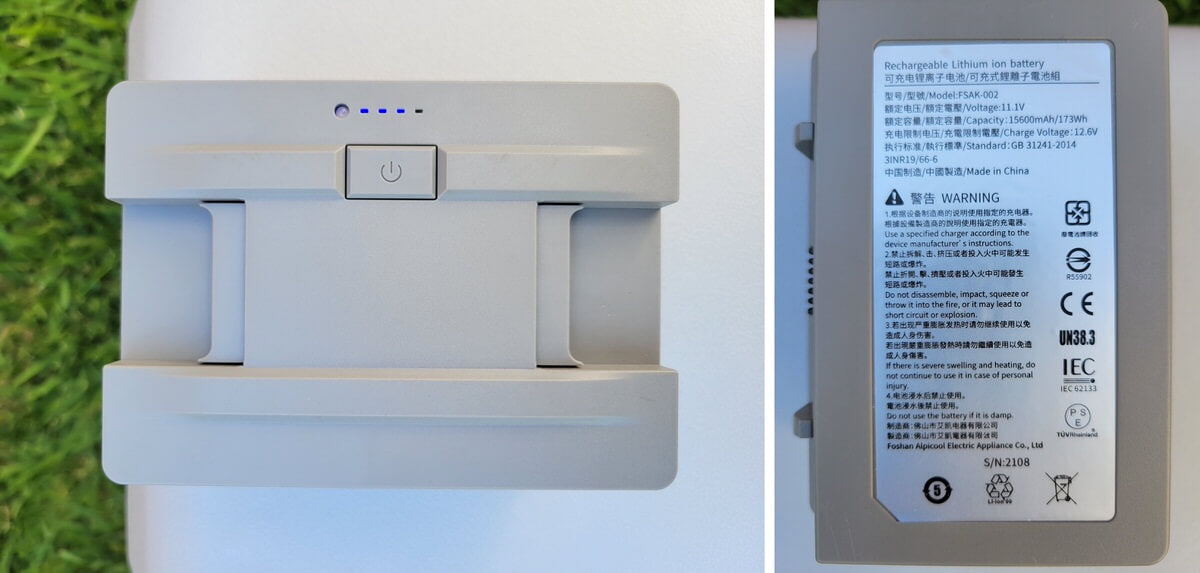 Cooling Efficiency
The colder the set temperature and/or the warmer the ambient (surrounding) heat, the more energy will be used

Keep in a cool location and out of direct sunlight for best efficiency
Consider putting the appliance in an insulated bag for better cooling

Ensure adequate air flow (4″+) on all sides of the unit,

 

especially

 

where the fan vents are
The more frozen/cold items are inside, the longer they can stay cool/frozen. Avoid opening the lid too often or for too long
An insulated, protective cover should be considered to help maintain internal temperatures better. I was unfortunately not able to find one for this

 

Bodega
Maintenance
Ensure lid seal is clean and unobstructed to keep cold air from escaping
Clean inside with a damp cloth every week

Use sodium bicarbonate (baking soda) dissolved in lukewarm water to clean anything dirty
Allow inside to dry before closing lid and putting away

Do not use detergent, soap, or abrasive/sharp products
Never clean under running water
Do NOT store the unit on its side. Always keep it upright to prevent damage to the compressor
To defrost and remove excess ice, power off the unit and wipe dry, then power back on

Do not allow a large amount of frost to build up on the inside of the walls as that will make cooling less efficient
Final Thoughts
Bodega Mini Cooler P15 Car Freezer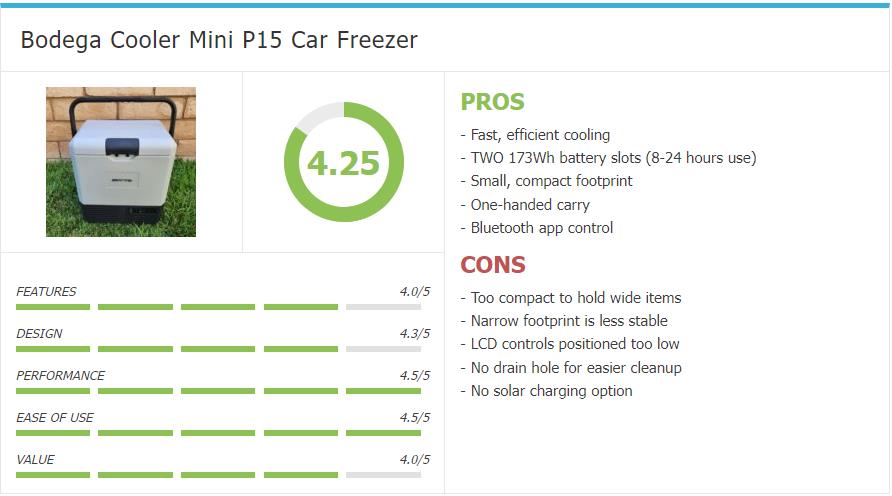 My initial thought was that the Bodega Cooler Mini P15 might be too odd of a form factor. Its biggest advantage is the small footprint it occupies while sitting tall enough above all other gear found within the cargo area. It also makes for easy, one-handed carry. Its biggest drawback is that its dimensions do not allow for longer items to fit. However, after having used it for several weeks and transporting it between my minivan and my wife's SUV, I eventually realized that it occupies a nice place within the car refrigerator space. How? My wife did not want to deal with the complications of power stations and cables going all over the trunk, and the built-in batteries make it very simple for her: switch them on or off to power the cooler regardless of the car's state. It took up little space in her already-small trunk, and it was easily secured with a bungie cord around the headrest of the backseat. It was easily transportable with just one hand. It fit everything she needed for a day trip.
Where To Buy
Car Freezers with Battery