Are you looking for the perfect gift to make this July 4th celebration even more special? Look no further than the Bodega Battery Powered Mini Fridge. With its versatility, cooling capacity, and stylish design, it's the ultimate gift for anyone who loves outdoor gatherings, road trips, and camping adventures. In this gift guide, we'll explore why the Bodega Battery Powered Mini Fridge is a must-have item for your July 4th festivities.
Why Choose a Bodega Battery Powered Mini Fridge?
Versatility and Portability
The Bodega Battery Powered Mini Fridge is designed with versatility and portability in mind. Whether you're hosting a backyard barbecue, enjoying a day at the beach, or embarking on a weekend camping trip, this mini fridge is the perfect companion. Its compact size and lightweight construction make it easy to carry and transport wherever you go.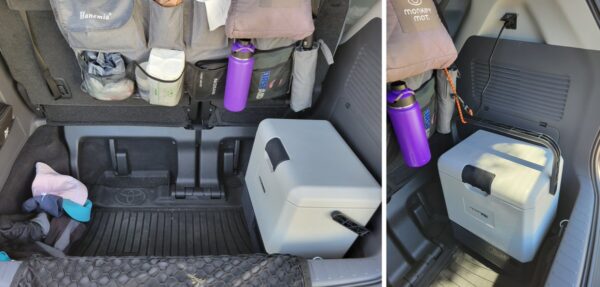 Ideal for Outdoor Gatherings
Picture this: It's a sunny July 4th afternoon, and your friends and family are gathered in the backyard, enjoying delicious food and refreshing beverages. With a Bodega Battery Powered Mini Fridge, you can keep everyone's favorite drinks cold and easily accessible. No more running back and forth to the kitchen or relying on bulky coolers. The Bodega mini fridge ensures that you have a constant supply of chilled beverages right at your fingertips.
Perfect for Road Trips and Camping
If you're planning a road trip or camping adventure this July 4th, the Bodega Battery Powered Mini Fridge is a game-changer. Say goodbye to melted ice and soggy food in traditional coolers. With its advanced cooling technology, the Bodega mini fridge keeps your snacks, drinks, and perishable items fresh and cool throughout your journey. It's like having a portable refrigerator on wheels!
Cooling Capacity and Efficiency
Despite its compact size, the Bodega Battery Powered Mini Fridge offers impressive cooling capacity and efficiency. Equipped with advanced cooling systems, it can quickly chill your beverages and keep perishable items at the ideal temperature. Whether you're storing drinks, fruits, or even ice cream, you can trust the Bodega mini fridge to maintain the freshness and quality of your items.
Compact Design and Storage Options
The Bodega Battery Powered Mini Fridge is designed to maximize storage while minimizing space. Its compact design allows it to fit seamlessly into any environment, whether it's a small apartment, a crowded RV, or a cozy campsite. Despite its size, it offers ample storage space to accommodate your favorite drinks, snacks, and essentials. With cleverly designed compartments and shelves, you can organize your items efficiently and access them with ease.
Energy Efficiency and Sustainability
In today's world, energy efficiency and sustainability are key considerations for any appliance. The Bodega Battery Powered Mini Fridge excels in both areas. It utilizes energy-saving technology to minimize power consumption without compromising cooling performance. Additionally, it offers sustainable options such as low-energy mode and eco-friendly refrigerants, making it an environmentally conscious choice.
Stylish and Functional Features
The Bodega Battery Powered Mini Fridge not only keeps your items cool, but also adds a touch of style and functionality to any space. With features like LED lighting and a digital display, it enhances the overall user experience. The LED lighting not only illuminates the interior of the fridge, but also adds a vibrant and inviting ambiance. The digital display allows you to easily monitor and adjust the temperature settings according to your preference.
Adjustable Temperature Settings
One of the key features of the Bodega Battery Powered Mini Fridge is its adjustable temperature settings. Whether you prefer your beverages ice-cold or just slightly chilled, you can easily customize the temperature to suit your needs. This versatility ensures that you can enjoy your drinks and snacks at the perfect temperature, enhancing your overall refreshment experience.
Learn also: Small Size, Big Chill: Mini Fridges for Camping Reviewed
Recommended Bodega Battery Powered Mini Fridges for July 4th
To make your July 4th celebration truly memorable, here are three recommended Bodega Battery Powered Mini Fridges that are perfect for different needs:
1. Bodega 8L Compact Portable Mini Fridge
The Bodega 8L Compact Portable Mini Fridge is an excellent choice for individuals. Its compact size makes it easy to carry and store, while still providing enough space for your essentials. With its efficient cooling technology, adjustable temperature settings, and long-lasting battery, it's the ideal companion for outdoor adventures.
2. BODEGAcooler Mini 12V Portable Freezer J9 10Qt/9L with Battery
The 8L portable mini fridge is designed to be energy-efficient, allowing you to keep your items cool while consuming minimal power. It helps you save on electricity costs and is environmentally friendly. It won't disturb your sleep or affect your concentration, making it suitable for bedrooms, offices, and study areas.
3. Bodega 15L Adventure Series Mini Fridge
If you're planning a road trip or a camping adventure for individuals or small gatherings, the Bodega 15L Portable Mini Fridge is a great option. It can store more items and withstand challenging environments. It ensures that you have all the refreshments you need for an enjoyable journey.
Conclusion
This July 4th, take your celebrations to the next level with a Bodega Battery Powered Mini Fridge. Its versatility, cooling capacity, compact design, and stylish features make it the perfect gift for yourself or your loved ones. With a wide range of options to choose from, you can find the ideal Bodega mini fridge that suits your needs and enhances your summer adventures.
FAQs
1. Can I plug the Bodega mini fridge into a power outlet instead of using the battery?
Yes, Bodega mini fridges usually come with a dual power option, allowing you to plug them into a standard power outlet when available.
2: How long does the battery last on a Bodega mini fridge?
The battery life of a Bodega mini fridge varies depending on the model and usage. On average, you can expect the battery to last up to 12 hours. However, certain factors like the temperature setting, frequency of door openings, and ambient temperature can affect the battery life.
3. How long does it take for a Bodega mini fridge to cool down after being turned on?
Bodega mini fridges have fast cooling capabilities, and they can reach the desired temperature within 15 minutes to an hour, from 68 °F (20 °C) to 32 °F (0 °C) just in 15 minutes on Max Mode.
5. Can I use a Bodega mini fridge in my car or RV?
Absolutely! Bodega mini fridges are designed for both indoor and outdoor use, including caravans, RVs, and boats. They are equipped to handle the vibrations and fluctuations in power supply commonly found in vehicles.