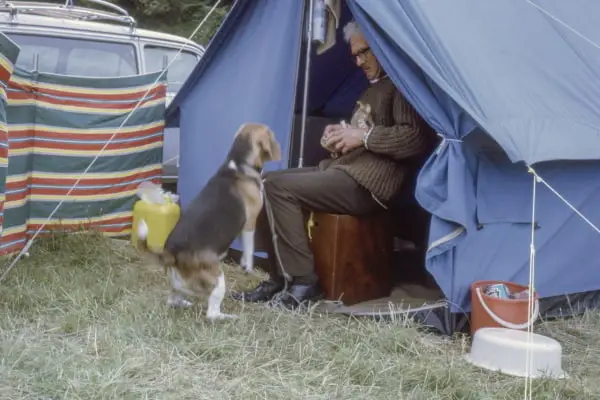 According to OutdoorIndustry.org, the average age of a tent camper is 40 years old.  Does this mean seniors should forget about tent camping and stick to cabins and RVs?
I don't think so.
Tent camping is a lot of fun and seniors shouldn't be left out of it.  This being said, seniors might want to take a few extra steps to guarantee that they'll have a fun, easy, and safe trip.
Here is my guide to tent camping for seniors.
Get Off the Ground
One of the best tips I can give senior campers is to get yourself off of the ground.  Bring a comfortable chair for sitting around the campsite and a comfortable cot for sleeping on.
This simple act will keep you warmer in cold weather, cooler in hot weather and it will help you sleep better and have fewer body aches.  If you suffer from arthritis, not having to climb up off of the hard ground every morning will make all the difference in the world.
Many senior campers have even turned to hammock camping instead of tent camping.  This is especially true for senior backpackers and primitive campers who don't have the option of bringing a cot out into the field with them.
Not sure what hammock camping looks like?  Take a look at my guide to hammock camping below.
Get a Tall Tent
Another way to lessen the chances of developing aches and pains while on your trip is to get a tent with a high ceiling.  The taller your tent, the less you'll have to bend over.
Ideally, you'll be able to get a tent that is tall enough for you to fully stand up in.  This will make it easier to get in and out of and will make the act of changing clothes much simpler.
If you'll have help erecting your tent, you could go with a large canopy tent.  These tents will have nearly vertical sidewalls so you'll be able to move about them freely.
Otherwise, consider a large instant tent.  Generally, any instant tent meant for 6 people or more will have interior heights of at least 6′.
These tents are easy to put up and take down and they can weigh as little as 25 pounds.  While they're way too big and heavy for backpacking or wilderness camping, they're fantastic for car campers.
Upgrade Your Gear
When is the last time you really used your camping gear?  If it's been a while then you'll probably be better off upgrading it.
Old stoves might appear to work fine but the hoses on them could be dried out and they could quickly become fire hazards.
Even if your old gear is in perfect working order, you might still want to upgrade it anyway.  New camping gear is almost always lighter than older camping gear and you might not be as strong as you were the last time you went camping.
Another benefit of new gear is that it's often better.  This is especially true for items like lanterns, headlamps, flashlights, and tent lights.
The older ones used incandescent or halogen bulbs.  New ones use LED bulbs which are brighter and more durable.  On top of this, LED bulbs use a lot less power.
My new LED lantern runs off 2AA batteries while my old halogen lantern ran off of 4 D batteries.  Additionally, the LED lantern is smaller, weighs less, and puts out a lot more light.
Spend More Time Planning
The average person in their early 20s can go camping on a whim.  He or she can toss a bunch of gear into trash bags, load up the car, and be at their campsite a few hours later.
This usually isn't true for seniors.  Seniors often have to worry about bringing enough medicine, finding a campsite with decent facilities, and packing the right gear to be comfortable.
They also tend to have more responsibilities to worry about too.  For example, what if you went somewhere without cell phone reception and forgot to tell your adult children where you went?
When your kids called to talk to you or came by your place, they'd become worried.  They may end up calling the police or breaking into your home to make sure you were OK.
Coming home to a broken window and some angry kids isn't the best way to end a relaxing tent camping trip.
Spend some time planning in advance and you'll be less likely to forget important details like this.
Consider a Site with Electricity
As a senior camper, you've probably already, "spent your time in the trenches".  By this I mean you've "roughed it" before and you don't have to prove yourself anymore.
Instead, make yourself comfortable by getting a modern campsite with electricity.  This way, you'll be able to bring things like fans, mini-fridges, coffee makers, swamp coolers, televisions, and anything else that might make your trip a little easier.
Most state parks will have campsites with electricity and they usually don't cost much more than a standard campsite would so it really doesn't make any sense not to take advantage of them.  Bring an outdoor extension cord and a good power strip and you'll be able to use your electronic devices in the comfort of your own tent.
Bring Something to Do
When you're young, you can spend an entire weekend hiking, biking, swimming, canoeing, and kayaking.  This often changes when you get older.
You may find that you need to rest a little more often than before.  This is perfectly fine and it can make for a relaxing trip.
Unfortunately, all of the extra downtimes can also lead to boredom.  Avoid this by packing a few leisure activities along with you.
Catch up on reading, watch a few movies, or practice a stationary hobby like drawing, writing, or even whittling.  These items will serve double duty as they'll help keep you entertained in the rain as well as when energy levels are low.
Bring Your Own Bathroom
Late-night trips to the bathroom are a hassle at home but they can quickly become an adventure at a campground.  And not the fun kind of adventure either.
These kinds of adventures consist of tripping over guy lines, waking your neighbors up, and getting lost on the way back and having to wait until morning to find your campsite again.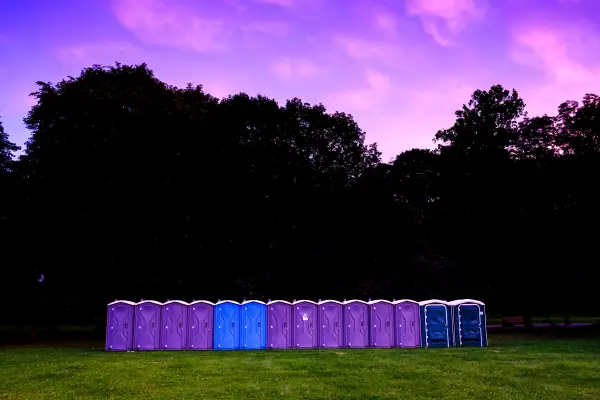 Avoid all of this by having your own bathroom onsite.  You can do this by bringing a two-room tent and creating your on on-suite bathroom in your tent, or you could simply bring a hygiene tent with you instead.
The only other item you'll need is the toilet itself.  This can come in the form of a portable chemical toilet, a composting toilet, or your own DIY bucket system.
Whichever toilet you choose, make sure you pick one that is as tall as the toilet you have at home. Some camping toilets are very short and they can be a hassle to get on and off.
Get around this by choosing a tall toilet or elevating the shorter one on a stable platform.
Change the Duration of Your Trips
Discomfort and fatigue is cumulative.  One or two restless nights aren't so bad but they become worse as time goes by.
An easy way to get around this is to keep your trips short.  This can be done by choosing weekend adventures closer to home or it can be done by breaking camping trips up with hotel or even cabin stays.
You could start your trip off in a tent in a state park for three days and could end it in a cabin in the same park for the next three days.  This would keep you from having to travel while also reducing the number of days you spend inside of a tent.
Another option might be to camp in one place for a few days, spend a night in a hotel and then move onto another campground for a few days.  A trip like this would give you the opportunity to explore both wilderness and urban areas in the locations you pass through.
Think About a 55 and Older Campground
55 and older campgrounds are just as prolific as 55 and older communities.  They are often quiet, well-maintained and full of amenities.
These parks are often RV-only parks but some of them also allow tent camping as well.  Do enough of this type of camping and you may even be able to sign up for a membership club that only charges one simple fee per year.
Go Tent Glamping
Another option might be to forget about bringing your own gear and to have someone else do it for you.  Many tent glamping campgrounds will have beautiful tents already laid out on wooden platforms that you can camp on.
These tents will usually have toilets and sinks within them.  Depending on the site, they may even have kitchen facilities inside of them as well.They'll often be hooked up with electricity too so you'll be able to head off into nature without giving up any of the amenities of home.  You also won't have to set anything up either, which can make the trip a whole lot easier.
If the park you want to visit does not offer glamping, you may be able to hire a company that can create the experience for you.  Tent glamping companies can go to your site, set everything up for you, and take it back down again when you're ready to leave.
These services do cost money, but they save you from having to buy any equipment so they prove to be the more frugal option for those who don't plan on doing a lot of camping each year.
What are your tips for senior campers?
I've shared my best tips for senior campers.  Why not share yours?