How to maintain the wine cabinet?
1. Replace the activated carbon filter of the vent above the wine cabinet once every half a year.
2. Clean the dust on the condenser (Metal mesh on the back of the wine cabinet) once every two years.
3. Please check whether the plug has been pulled out before moving or cleaning the wine cabinet.
4. The wood shelter shall be replaced once every 1 to 2 years to avoid the potential safety hazard caused by the deformation and corrosion of the solid wood shelter under high humidity.
5. Spotless the wine cabinet once a year. Before cleaning, please pull out the plug, empty the wine cabinet, and then gently scrub the cabinet with water.
6. Do not put heavy pressure on the inside and outside the wine cabinet. Do not place hot utensils and heavy objects on the top of the wine cabinet.
7. Wine cooler should be stored away from light and low vibration. Uneven feet will cause vibration and affect the taste of red wine. Better don't move the wine cabinet once it is placed.
8. The wine cabinet should be well protected against sun and moisture. It is the best way to keep ventilation.
9. If the wine cabinet is not used for a long time, you must unplug the power supply, clean the parts, and dry them for storage.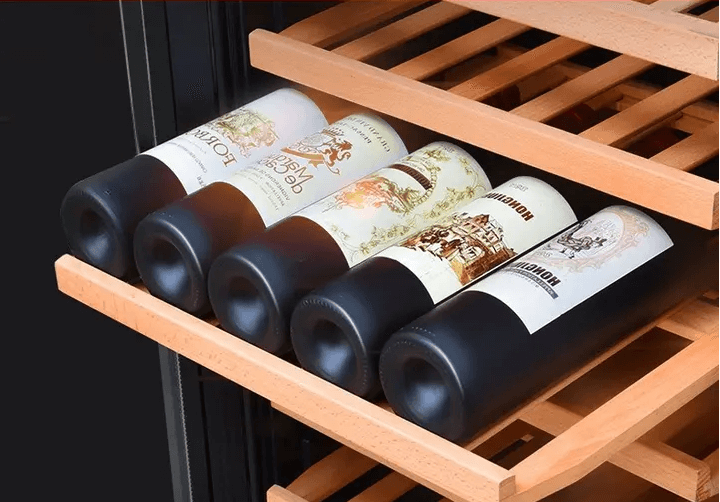 How to clean the wine cabinet?
1. For safety, please unplug the power plug before cleaning.
2. When cleaning the wine cabinet, please use a soft cloth or sponge, dipped in water or soap (non-aggressive neutral cleaning agent can be used). Clean with dry cloth after cleaning to prevent rusting.
3. Do not use organic solvent, boiling water, detergent or other materials to clean the wine cabinet, in case of damaging the refrigeration circuit.
4. Do not scour the wine cabinet with water during cleaning; Do not use a hard brush or steel wire ball to clean the wine cabinet.
You may want to read how to choose wine coolers>>9 Tips on Wine Cabinet Selection